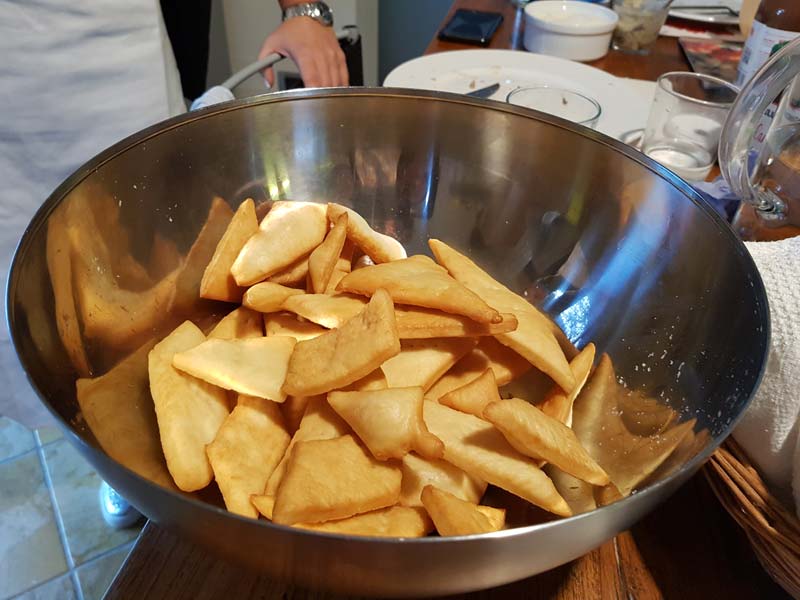 The Queens
of Bologna
The famous Tigelle and Crescentine are the Queens of the restaurants in Bologna, especially on the hills and in the old town.
In this class you will learn the original recipe of these two delicacies.

Number of participants
Min. 2 – Max. 10
For individual classes ask for a quote


Duration
About 6 hours including lunch or dinner after the class

Gifts
The cotton apron of La Cucina di Luciana, the certificate of attendance and the notes with the recipes prepared.
Crescentine recipe consists in a bread dough fried in oil or lard and it is perfect to be eaten with any sort of cold cuts like prosciutto, salame, mortadella or soft cheese like stracchino and squacquerone. You'll enjoy the pleasure of frying each piece and seeing the dough that in contact with lard or oil swells forming bubbles rising on the surface.
Tigelle have the characteristic round shape due to the molds used to bake them. In the past, these molds were refractory stone discs and the name "tigelle" comes from these. The perfect way to taste tigelle is to cut them horizontally when they are still very hot and fill them with cold cuts, cheese or the traditional pesto (a sauce based on lard, rosemary, garlic and Parmigiano). You can also enjoy tigelle as a dessert, putting into them jams or chocolate cream like Nutella.
Picking delicious cold cuts and cheeses from large dishes placed in the middle of the table for filling tigelle and crescentine is also synonymous with conviviality.
A dinner based on tigelle and crescentine is a perfect way to taste some excellences that make Bologna and Emilia Romagna famous all over the world. They are perfect with Parma ham, Culatello, Mortadella, Squacquerone. Not to mention, at the end, the great wine that you can drink with them. Right from the hills surrounding my home you can taste Pignoletto, Cabernet Sauvignon and Barbera.